EUTA ON CBNW MAGAZINE – ONCE MORE!
---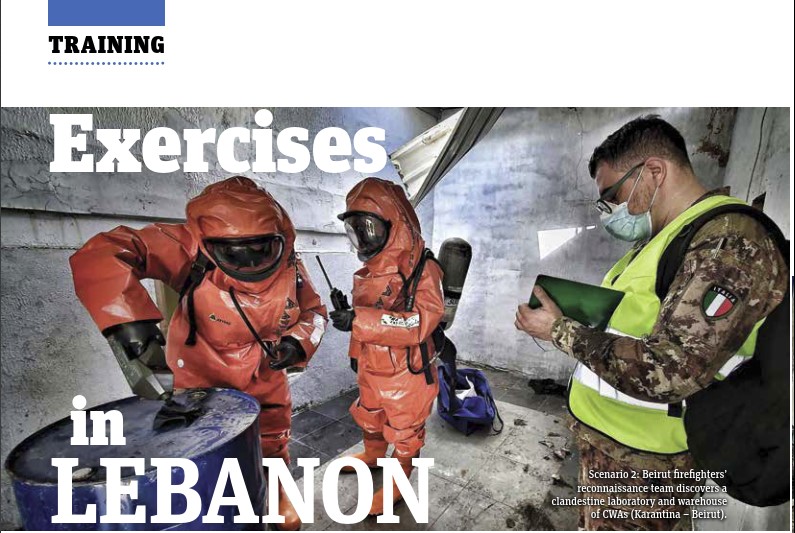 The European Union Technical Assistance on CBRN Risk Mitigation in Lebanon is once more on CBNW Magazine, the leading journal for CBRN defence, countermeasures, and analysis of threats worldwide!
On Issue #2 for 2021, pages 40 and 41 are fully dedicated to the EU TA and more in details to the CBRN Interagency training programme recently implemented in Lebanon, through the Interview with Lt. Col. Andrea Gloria and the Team Leader Andrea D'Angelo.
The article highlights the added value of the EU funded project with its outstanding results. In fact, in its 3 years of implementation, the EU TA trained over 1200 between the Lebanese Armed Forces, internal security forces, civil defence, Beirut firefighters, the Lebanese Red Cross and the Office of the Prime Minister.
In addition, in the article focus is given to the final phase of the project, in particular on Interagency Training which involved over 400 first responders in a complex 5-week training with scenarios on:
TIC accidental releases in urban areas
Discovery of a clandestine laboratory producing illicit drugs and CWAs
Explosion of a chemical IED in a clandestine warehouse
Sabotage of a chemical facility and hostage-taking
A RDD found during an inspection at a checkpoint
A terrorist attack using a vehicle borne IED against a truck transporting chemical substances.
The EU TA Project has been finally implemented by B&S Europe in SAFE, the Italian Ministry of Defence, and the French Ministry of Foreign Affairs!
Read the full article below!