WE ARE HIRING: Junior Project Manager
---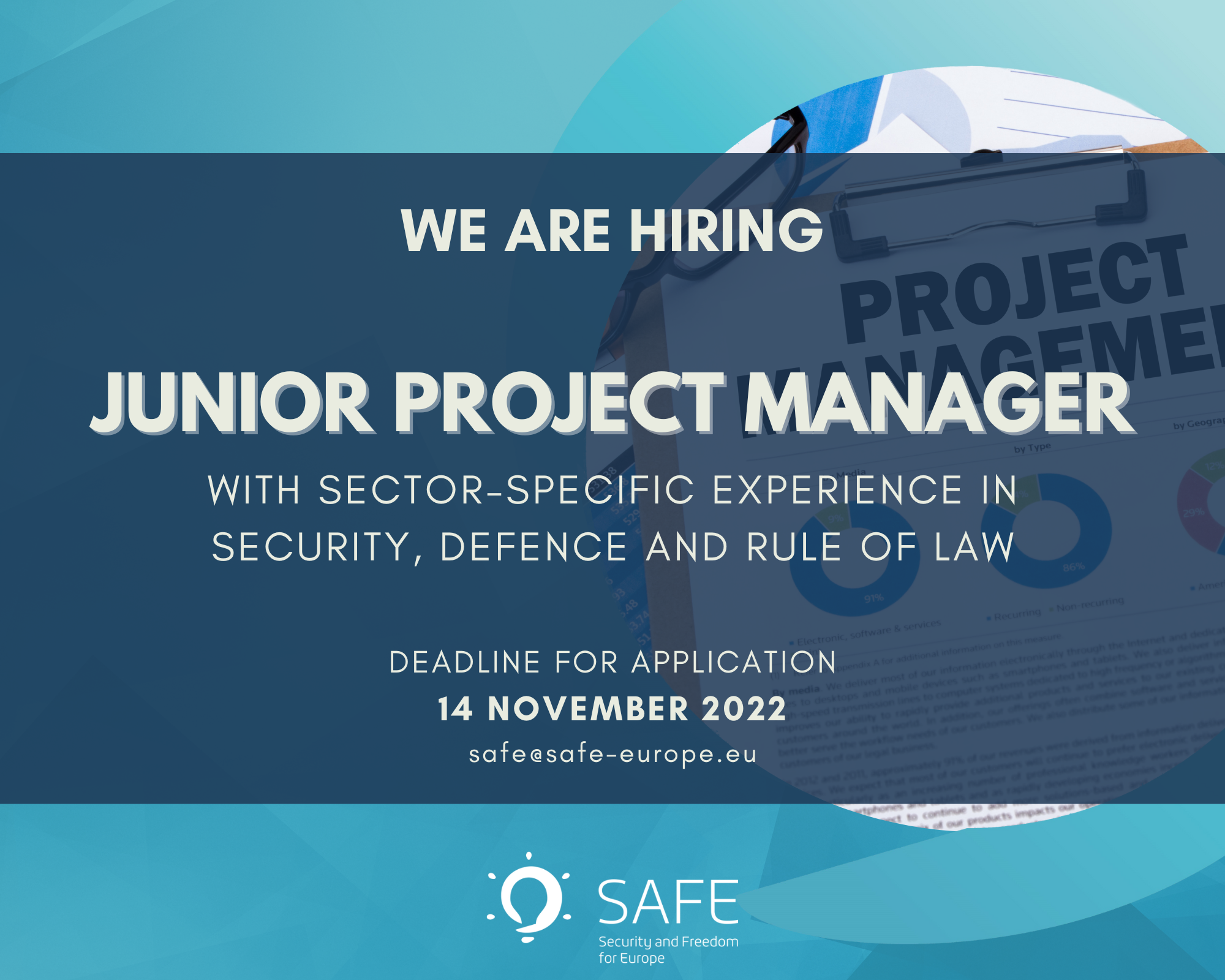 SAFE is hiring 𝐚 𝐉𝐮𝐧𝐢𝐨𝐫 𝐏𝐫𝐨𝐣𝐞𝐜𝐭 𝐌𝐚𝐧𝐚𝐠𝐞𝐫 for EU projects!
𝗥𝗼𝗹𝗲 𝗸𝗲𝘆 𝗽𝗼𝗶𝗻𝘁𝘀: drafting and managing EU projects (e.g. Horizon Europe, ISF, EDF, EDIDP), liaison with Partners, business development & networking.
We are looking for:
1-3 years experience in the security and defense field
Previous experience in EU project management
Degree in Economics, International Relations, Intelligence, National Security, Criminology, International Development or related fields
English proficiency – other languages are an asset
What we offer:
𝗣𝗼𝘀𝘁 𝗹𝗼𝗰𝗮𝘁𝗶𝗼𝗻: Soave (Verona) – no remote work foreseen
𝗖𝗼𝗻𝘁𝗿𝗮𝗰𝘁 𝘀𝘁𝗮𝗿𝘁𝗶𝗻𝗴 𝗱𝗮𝘁𝗲: End of 2022
𝗗𝘂𝗿𝗮𝘁𝗶𝗼𝗻 𝗼𝗳 𝘁𝗵𝗲 𝗰𝗼𝗻𝘁𝗿𝗮𝗰𝘁: 36 months, renewable
𝗦𝗮𝗹𝗮𝗿𝘆 𝗿𝗮𝗻𝗴𝗲: 25.000€ – 35.000€ gross salary, based on experience
Send your CV and Motivational Letter to: safe@safe-europe.eu
Applications close on 14 November 2022!
Read the full vacancy here:
Vacancy-Junior-SAFE_03112022